Regular price
Sale price
$60.00 USD
Unit price
per
Sale
Sold out
Share
"Visions of the Inner Eye" is about looking deep within the self and finding your inner GPS, your guiding light. 
This mystical painting for me was about seeking truth and tuning into my soul's purpose here on earth. 
The inner eye in this painting is connected to the kabbalistic sfira of da'at.  This is the point of intuitive knowledge. When we connect to that point, we are essentially receiving the infinite light (Or Ein Sof) from above. 
Sometimes we are in a state of confusion and hear so many voices inside. We often get lost and exhausted by figuring out where we stand. When we actively connect to the infinite light, we begin to listen to that quiet inner voice that's often buried beneath all the noise and chaos. 
This painting is a statement that the answers always lie within. 
Having this painting hanging on your wall will remind you to always seek the truth and connect to the inner knowledge of G-d.
The story:
I painted the original in 2012 in Chicago. I decided to attend a five-day visionary workshop called "Painting with Light," with renowned visionary artist, Amanda Sage. This workshop was the beginning of an exciting new phase for me as a painter. As I painted this self-portrait, I learned how to paint with a new technique, building up layers of white and color to create depth. This was a very meaningful workshop for me and I continue to apply these techniques today. 
View full details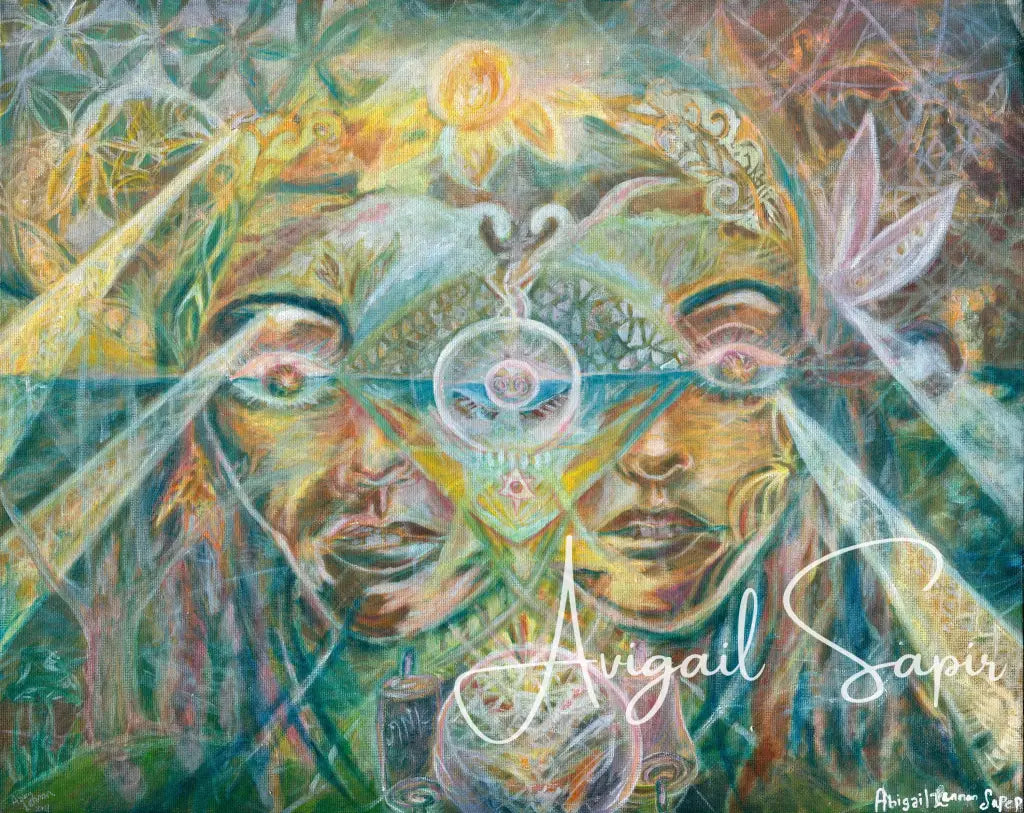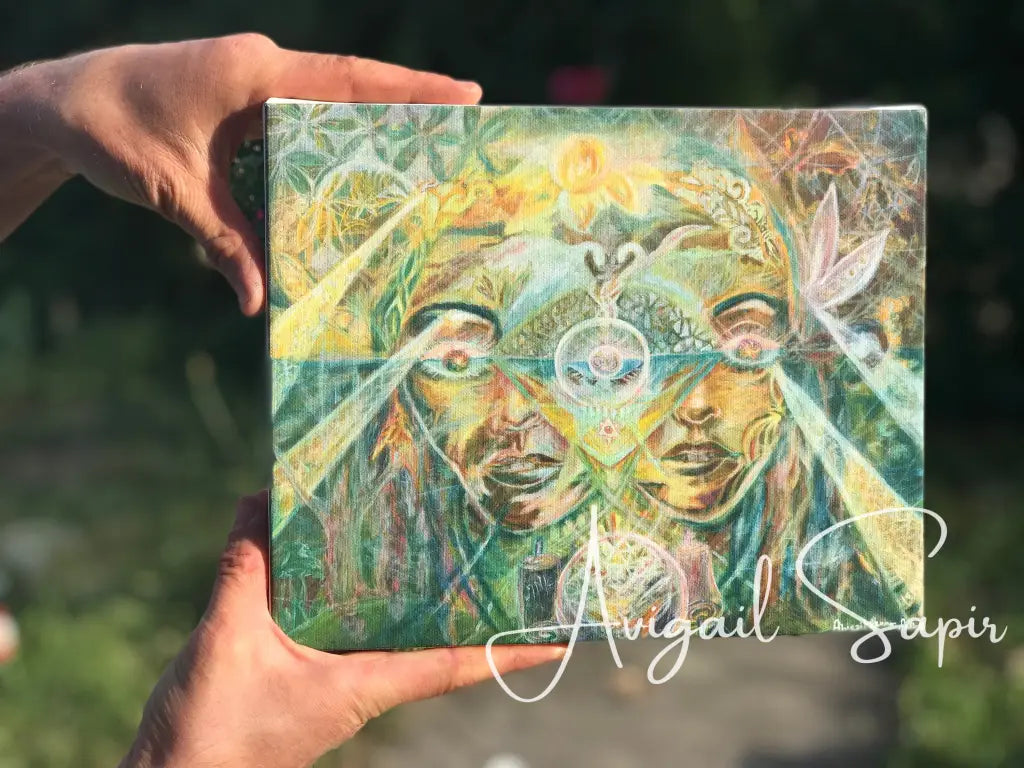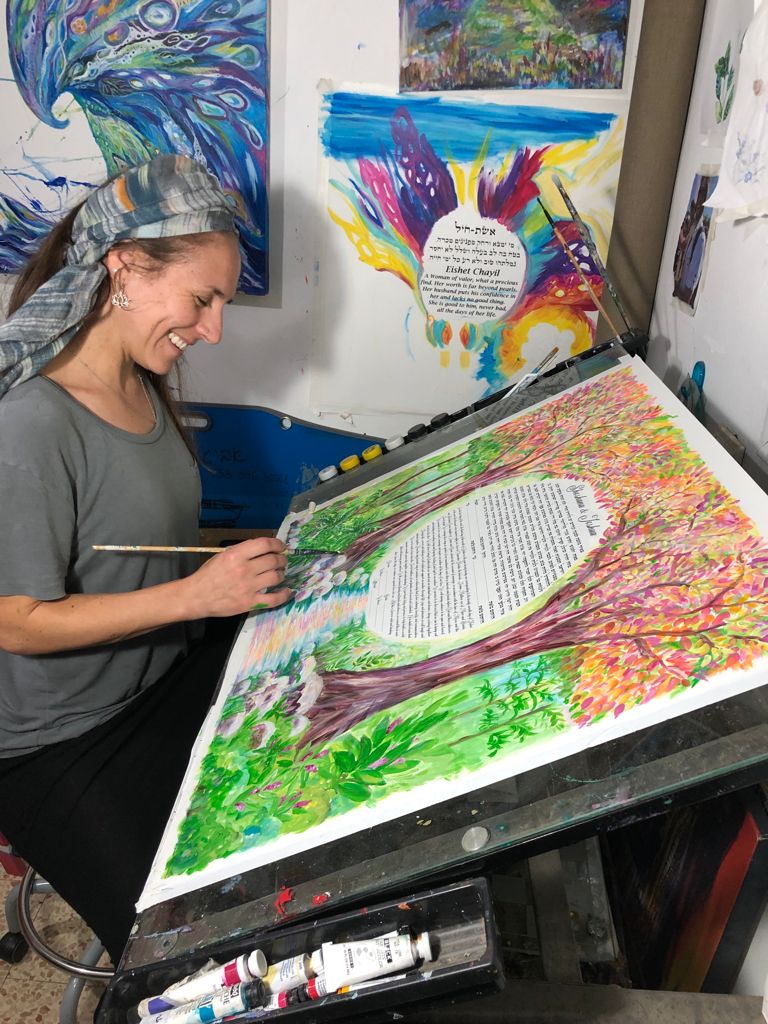 Hi!
I paint to bring more light and inspiration into your life.  Each piece is made fully with my heart and soul and carefully packaged for maximum protection.
This artwork is professionally printed on your choice of museum-quality, acid-free archival paper or canvas. These prints look amazing and their rich and radiant colors are made to last over 100 years without fading when kept out of direct sunlight. 
Expect to feel fresh vibrant energy enter your home when you receive your beautiful art! 
It makes my day to hear from you, so please reach out with any questions. 
Thank you for visiting my shop!
With Love,
Avigail
FAQ
1.How do I know if I should get canvas or paper? 

Both canvas and paper have their own unique feel, and they both look incredible. If you are having trouble choosing, go with archival paper. 

  

Think about how you want the end product to hang:

Paper prints are meant to be framed and well protected by easy to clean glass.

Canvas prints can either be framed or stretched on wood by your local framer. A stretched canvas will hang on your wall as an original painting would.

2. Does the print come framed?

Your print does not come framed. It comes rolled up in a tube for maximum protection.

You can take both paper and canvas to your local framer or order a custom frame online. 

The size listed is the size of the actual image of art not including the border. Each print comes with an approximately 5 cm border on each side to allow for easy matting, framing, and stretching.

Keep this in mind when buying a frame. For this reason, I highly recommend buying a frame after you receive your print.
Shipping

I ship worldwide for free. This standard shipping option usually takes 2 days in Israel and 1-3 weeks worldwide.

Express International Shipping. I offer a shipping upgrade at checkout for 70nis ($20). This usually takes 1 week or less to arrive after shipping.

Quality Guarantee

I take great pride in the quality of my paintings. I stand behind my paintings and I guarantee that you will be satisfied with your purchase. If your painting arrives in less than acceptable condition I will replace it at no additional cost.

I want you to love your painting as much as I do. That's why I offer this guarantee. I know that you'll be happy with your purchase.